Bug Report
No software is 100% correct. But with the LayoutEditor we want to achieve that as close as possible. This is only possible, if you report any found problem/bug. So please post it on this page by pressing the 'Edit this Page' button on the lower left and share your knowledge. Customers with a commercial license of the LayoutEditor my also contact support@layouteditor.net for any kind of support.
Bug Report
Add a new bug here
The free version for the Mac, which I downloaded today, won't allow me to save my files. It says that it saving is not a feature included in the version and that a license is required!
Incorrect work of Merge function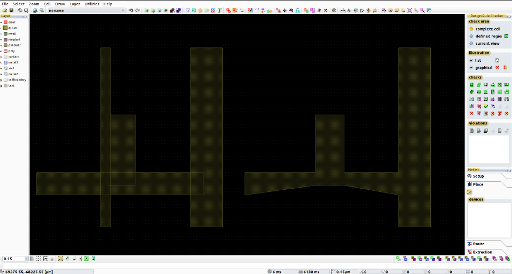 If databaseunits of Layouteditor is not equal standard units (nm, um, mm, cm ...) and lengh of figure edge is not a multiple of 2 steps of the grid then Merge function work incorrect. Example before and after the merger of the figures can be seen in the screenshot. In example databaseunits=0.15e-6
Response: The merge result does not depend on the database units value, but on the scale in database units of the merged shapes. The shown effect is a result of intended snapping within the merge function. In the first step of a merge any intersection is calculated. Calculated intersections are joined within a margin of 3 database units. This is required due to possible rounding error during the intersection calculation. So shapes to be merged should have no dimension lower than 3 database units.
See also
---